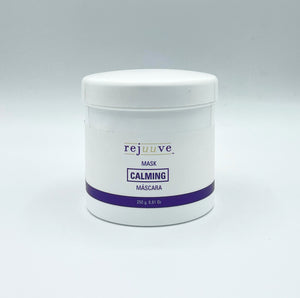 Calming Mask by Rejuuve
Sale price Price $70.00 Regular price
The Calming Mask by Rejuuve moisturizes and calms skin, providing relief to irritated, inflamed skin. It is made with natural ingredients that nourish, hydrate, and restore balance to the skin, leaving it feeling refreshed and rejuvenated.
A peel-off treatment with immediate lifting results, obtaining quick efficient results and helping to eliminate toxins in the body.
Formulated in Spain. Dermatologically tested.
Instructions for use:
It can be used as a mask for the face and body, applying light and pleasant pressure on the area. Its use is very clean and simple, because alginates are removed in one piece and disposed directly into the trash, without using gloves or wet sponges.

Key Ingredients:
• Chamomilla Recutita Flower Extract: contains a higher concentration of key active ingredients that have shown anti-inflammatory activity in vivo, namely the terpenoids chamazulene and α-bisabolol.
• Alginasine: Direct effect on the formation of gels, that acts as a support and also performs a purifying and moisturizing action thanks to the rich contents on minerals.
Container size: 8.81 oz